Welcome to the 2021 Season. 
Following recent COVID advice we shall begin running trips as soon as regulations allow us to. Watch this space for further details.
We would like to welcome Ian Gadd, our New Skipper, who has been in post since February 1st. At present he is working on the boat getting her ready for when the season can begin. He looks forward to meeting all our clients and volunteers during the coming months.

In honour of Peter, our Skippers retirement we asked him to share his thoughts on his role on the New Horizons. We wish you the happiest retirement Peter and all your fans and friends will miss you!
My Time as Skipper of the New Horizons
I have been very fortunate to have been the Skipper of the New Horizons canal boat for the past 10 years. During this period I have thoroughly enjoyed time spent sailing through beautiful landscapes and helping people with disabilities to experience sights and sounds that may otherwise have been denied to them. It has been hard work at times with maintenance jobs required to keep the boat operational as well as sailing her but it has been a real passion and hard to imagine doing anything else.
There is nothing quite like seeing the transformation of teenagers, initially reluctant to join the trip, relaxing and enjoying themselves for a few hours and then at journeys end not wanting to leave the boat. To see their happy smiles is priceless. We also run many trips for local care home residents who love watching nature from the comfort of the boat. It opens up a different world and seeing things like haymaking in the field sometimes brings back warm memories of their younger days.
Nature is ever present, over the years I have seen foxes and badgers and even deer from Lyme Park swimming ahead of the boat before leaping onto the towpath and heading back into the park.
You never know what you're going to come across, every day is different and every group has a contrasting experience. You also meet local people who use the towpath for walking or riding bikes and of course local fishermen. Everyone is very friendly and I think they feel that the New Horizons is an important part of the local community. They put a smile on your face even on cold windy days.
The New Horizons has also in recent years played a very important role in bringing Father Christmas to Marple, usually on a Friday night in early December. To see the event grow and grow each year has been heartening and I am only sorry that the pandemic this year means that he will not be able to make the trip. Although one of his Elves did assure me that he will still be coming to bring presents to the children of Marple on Christmas Eve.
I had mixed feelings as we entered the last week of the season, sad to be saying goodbye but also looking forward to spending more time with my family, especially my dear wife Susan who didn't tend to see a great deal of me during peak season. It will also be a relief not to be checking the weather forecast every morning.
I would like to thank all the skippers and volunteers for their help and friendship over the last ten years, they made my job so much easier. The cards received will be treasured and the generous gift voucher to mark my retirement will be spent on a bench for my garden.
Finally, I would like to wish the New Horizons all the very best for the future and may she continue to bring happiness to all who sail on her.
Peter Sharp, Skipper. Nov 2020.
Macnair Trust support, see News page.
To Book New Horizons for your next trip please visit our booking pages and use the online form or call:
Booking Numbers
Line One: 07413 565150  Main Number (

Booking and Card Payments)

Line Two: 07413 550428 (

Bookings and Enquiries)
            Please do not use SMS for for bookings, these may not be monitored. Face Book enquiries welcome.
A trip in a Canal Boat is the nearest a disabled person will come to a walk in the countryside."

H.R.H. Prince Charles.
 Follow this link for a sample of what a trip on the Peak Forest Canal with  New Horizons is like.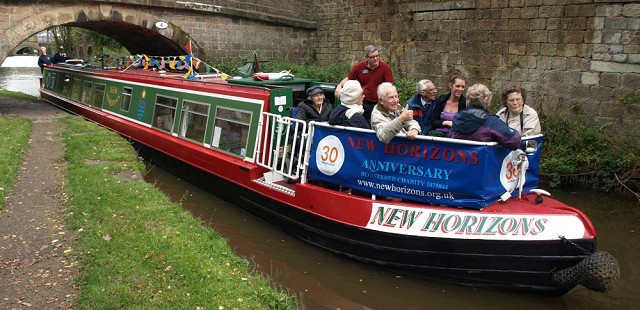 Day cruises on New Horizons are normally along either the Macclesfield Canal or the Peak Forest Canal. For more information take a look at 'Cruising Options' on the BOOKING INFORMATION page.
SAFETY
New Horizons is under the command of a full-time qualified skipper to ensure the boat's availability and the safety of passengers. The skipper and crew are all trained for inland waterways navigation. The boat is licensed by The Canal and River Trust and complies with boat safety requirements and is inspected at regular intervals by a marine surveyor.