New Horizons' News
Here's the latest news from New Horizons.
Dear Volunteer / Supporter.





Please find the Agenda, Note of meeting for 2020 and an Order form for 40th Birthday Celebration Wear.





The meeting will be by Zoom:-



Join Zoom Meeting  https://us02web.zoom.us/j/82523473001?pwd=N1RkK0cvbmxDd1hwbEhu NUhHVjRQdz09

Meeting ID: 825 2347 3001 Passcode: 789881
Stockport Canal Boat Trust
Annual Open Meeting
24th January 2021
1.30pm
By Zoom
Agenda
1. Present
2. Apologies
3. Chairs Welcome
4. Introduction of the New Skipper
5. Skippers Report
6. Finance Report
7. Booking Officer Report
8. Chairs Report
9. Volunteers Remarks
10. Volunteer Events
11. The 40th Season
• Events
• Corporate Wear
• Co-op
12. Float the Boat Draw
13. Calendar 2021
14. AOB
See news page for notes for 2020 meeting and order form for clothing.
Stockport Canal Boat Trust
Annual Open Meeting
9th February 2020
1.00pm
The Navigation Inn Marple – Note of Meeting
1. Present / Sign In 16 volunteers were present.
2. Apologies, Ken Hume, Paul Allerton, David and Karen Bluff, Roger Neill
3. Chairs Welcome – The chair welcomed everyone to the meeting and thanked then for their attendance given the weather.
4. Skippers Report – see separate report
5. Finance Report – see separate report
6. Booking Officer Report – see separate report
7. Chairs Report
• Festivals
• CRT
• Local profile
• Social Media
• Volunteer Development
• Recruitment
8. Volunteer Training 29th March 2020 - – see separate report
9. Float the Boat Draw – S20 Stuart Hodgson
10. Calendar 2019 – Attention was drawn to the forthcoming events
11. Chairs Announcements – the Chair announced that Peter Sharp would be retiring from New Horizons at the end of the 2020 season.
12. AOB – No AOB.
New Horizons Corporate wear 40th Birthday Range
All 40th Birthday wear will in in Maroon.
The Logo will be the. the Narrowboat coming through the Bridge, with Text – New Horizons (above) Marple, 1981 -2021 (Below) embroidery will be in a colour which will stand out!
In honour of Peter, our Skippers retirement we asked him to share his thoughts on his role on the New Horizons. We wish you the happiest retirement Peter and all your fans and friends will miss you!
My Time as Skipper of the New Horizons
I have been very fortunate to have been the Skipper of the New Horizons canal boat for the past 10 years. During this period I have thoroughly enjoyed time spent sailing through beautiful landscapes and helping people with disabilities to experience sights and sounds that may otherwise have been denied to them. It has been hard work at times with maintenance jobs required to keep the boat operational as well as sailing her but it has been a real passion and hard to imagine doing anything else.
There is nothing quite like seeing the transformation of teenagers, initially reluctant to join the trip, relaxing and enjoying themselves for a few hours and then at journeys end not wanting to leave the boat. To see their happy smiles is priceless. We also run many trips for local care home residents who love watching nature from the comfort of the boat. It opens up a different world and seeing things like haymaking in the field sometimes brings back warm memories of their younger days.
Nature is ever present, over the years I have seen foxes and badgers and even deer from Lyme Park swimming ahead of the boat before leaping onto the towpath and heading back into the park.
You never know what you're going to come across, every day is different and every group has a contrasting experience. You also meet local people who use the towpath for walking or riding bikes and of course local fishermen. Everyone is very friendly and I think they feel that the New Horizons is an important part of the local community. They put a smile on your face even on cold windy days.
The New Horizons has also in recent years played a very important role in bringing Father Christmas to Marple, usually on a Friday night in early December. To see the event grow and grow each year has been heartening and I am only sorry that the pandemic this year means that he will not be able to make the trip. Although one of his Elves did assure me that he will still be coming to bring presents to the children of Marple on Christmas Eve.
I had mixed feelings as we entered the last week of the season, sad to be saying goodbye but also looking forward to spending more time with my family, especially my dear wife Susan who didn't tend to see a great deal of me during peak season. It will also be a relief not to be checking the weather forecast every morning.
I would like to thank all the skippers and volunteers for their help and friendship over the last ten years, they made my job so much easier. The cards received will be treasured and the generous gift voucher to mark my retirement will be spent on a bench for my garden.
Finally, I would like to wish the New Horizons all the very best for the future and may she continue to bring happiness to all who sail on her.
Peter Sharp, Skipper. Nov 2020.
Dear Volunteer / Supporter,
End of Season Update
Sorry I can't address you by name as I would like to but as you will appreciate this letter is going to many.
Just a very quick update at the end of what has been the strangest cruising year.
Since we resumed operation on the 19th July we have been catering for a slightly different clientele, much smaller groups and any families. Feed back suggests that the changes to operation have been well received and that our service users have appreciated the opportunity to experience the countryside in a COVID secure way.
We were very grateful to both the Macnair Trust and Marple and New Mills Round Table for their support in ensuring this could happen.
We are currently in the process of recruiting a skipper for next season. We made a presentation to Peter in September and are extremely grateful to him for everything he has done during his time as our skipper.
Christmas Events
We had planned to have a different style of Santa event at the mooring in early December but the current lockdown situation means that this is not possible.
We do have some fundraising updates.
We have been selected as one of the Charities to be supported by the Co-op Local Community Fund between October 2020 and October 2021. The particular project is to raise funds to enable us to offer 40 community trips to celebrate our 40th Birthday.
Money is generated by Co-op members selecting us as their charity and through the sale of own brand products in the local stores. With a new store opening in Church Street Marple this month the timing is good.
Our cause page is https://membership.coop.co.uk/causes/45899
If you are already a member please select us as your cause for the funding year – you don't have to live in Marple to do this, supporters from anywhere can choose us.

Don't forget over the Xmas season that you can support us by using
www.easyfundraising.org.uk when you shop on line. This covers many major stores and can link you to Amazon Smile.
I will be in touch again once we have a new Skipper with early Calendar dates for next year!
40 years of Community Boating in Marple!!!!!
Very best wishes as always.
Sue Woodgate
Chair SCBT
Support from Macnair Trust
New Horizons is pleased to acknowledge a significant donation from the Macnair Trust, a charity which supports organisations within the old Marple UDC boundary. This donation is specifically to help with our COVID19 Secure arrangements which have ensured that the boat is up and running, able to take passengers on the canal in a safe and secure way.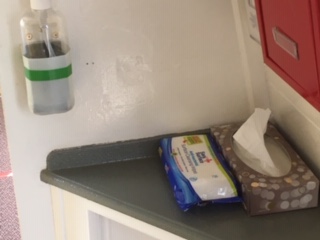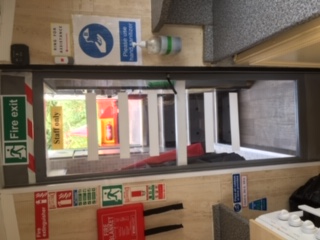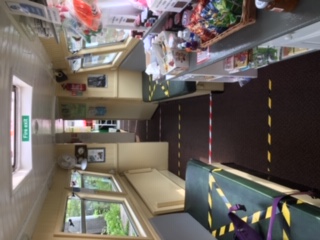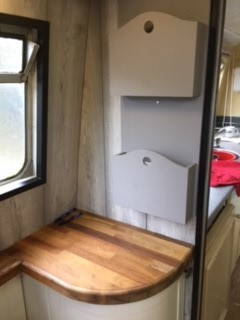 COVID 19 – FREQUENTLY ASKED QUESTIONS

Who can book?
Because we recognise that the last 4 months have been difficult for everyone anyone who is able to be together under the social distancing regulations can book. However the boat would be very beneficial to people with reduced mobility.
Or people who are still nervous about going out and want a secure controlled environment in which to enjoy the countryside.
What trips are available?
All our trips are available, morning, afternoon and evening trips are recommended as a full day trip would require some contact with the crew.
How much does it cost?
All bookings are for the whole boat, 2 hr cruises are £70, 3½ hr cruise is £100.
How do we Book?
Phone either 07413 565 150 or 07413 550 428 to make a booking
Will we need to give any information at the start of a cruise?
Yes
You will be asked on arrival to confirm that no one or anyone in that household is suffering from COVID 19 symptoms and that you are able to be together as a group under the social distancing regulations.
You will be asked to confirm contact details of all your group. (please bring these with you in a form you can hand in – they will only be kept for 21 days and then destroyed)
Will there be other passengers on the boat?
No
Only you and the people you have invited – i.e. those you are allowed to be with will be on the boat.
Will there be a skipper and crew member on the boat?
Yes
There will be a Skipper and 1 crew member on the boat. The skipper and crew will operate the boat from outside, a new door has been placed in the boat towards the rear which separates the passenger are and the crew area. Crew will only come into the passenger cabin in an emergency. There is a distance of over 60ft (10 metres) between the front viewing deck and the crew area.
Is it easy to get on and off?
Yes, boarding is either on a ramp or one small step. There is a lift to the main cabin. You will be expected to operate the lift under instruction at the start of the cruise and throughout the cruise on your own.
Are drinks available?
No, At this time there will be no kitchen facilities available although hot water for making drinks you have brought with you will be.
Have all the relevant Hygiene Precautions been taken?
Yes - Hand Towels and Dispensers have been installed in the kitchen and toilet.
There will be tissues available throughout the boat to promote Catch it, Bin it, Kill it.
There are Flip top bins installed in 3 places and emptied every trip. There is Anti-Bacterial Handwash available in Toilet and Kitchen
Three hand sanitizer stations have been set up. Seat coverings which are wipeable fabric replace the fabric ones. Bleach based cleaner has been provide and SCBT staff will clean all surfaces between trips and at the start of every day.
There are Anti-Bacterial wipes to be available for surfaces.
Is the shop still there?
Yes, but only pre-packed goods are available, exact money has to be deposited in the donation tin and no change can be given.
Has a full Risk Assessment been done according to Government Requirements?
Yes, a detailed Risk Assessment showing everything we have discussed and considered to make the boat COVID secure is available on board.