New Horizons' News
Here's the latest news from New Horizons.
Privacy Policy Updated, click on the link at the bottom of the page for details.
All are invited to our Open Meeting, 2018
Stockport Canal Boat Trust
Annual Open Meeting
4th February 2018
The Navigation Inn Marple (Large Room Upstairs)
1. Apologies
2. Chairs Welcome
3. Skippers Report
4. Finance Report
5. Chairs Report
• Festivals
• CRT Planning Application
• Booking Officer Update
• Website
• Communication
• Role Definition and Responsibilities
• Recruitment
• Float the Boat Draw
6. Calendar 2018
7. AOB

APRIL    1ST                      CRUISING STARTS
JUNE     2nd                     BUXTON ROTARY CLUB CHARITY EVENT
MAY    13TH                     HAWK GREEN MAYPOLE EVENT
JUNE  16TH                      MARPLE CARNIVAL
JULY                                 BUGSWORTH FUN DAY
SEPTEMBER                      MARPLE FOOD FESTIVAL
SEPTEMBER    19th          MAYORS TRIP (Tentative)
SEPTEMBER  23rd           VOLUNTEERS EVENT AT THE MOORING
DECEMBER    1st            WINTER WONDERLAND
WINTER WONDERLAND 2017
The New Horizons Team will have two stalls at the Marple Bridge WINTER WONDERLAND on the 2nd of December 2017.  All the usual goods will be on sale and a new game has been added to the repertoire. Come and see us to find out more.............
Volunteers Celebration.
On a particularly nice Sunday towards the end of September, Trustees and Volunteers came together to celebrate  another good year for New Horizons.
Having an opportunity to meet with volunteers and friends of the boat is always a lovely affair. A substantial buffet lunch was provided by our Chairperson, Sue, and was enjoyed by all.
The afternoon also marked the retirement of Marion Eyres, our Booking Officer, who has been involved with the boat over, many seasons in a variety of roles. Our thanks were extended to Marion and best wishes for the future shared.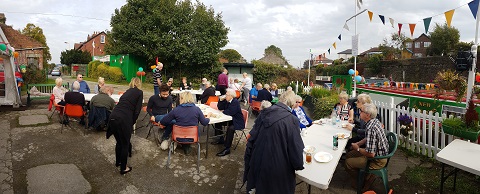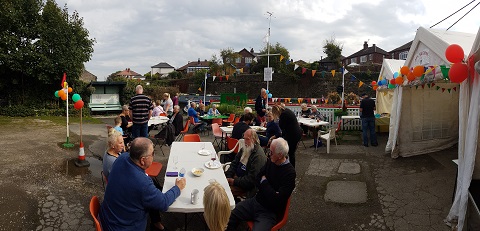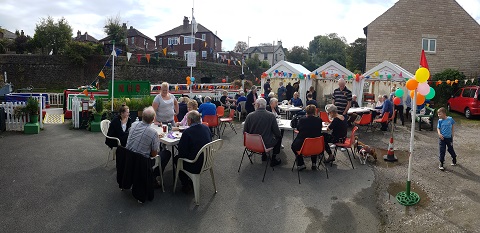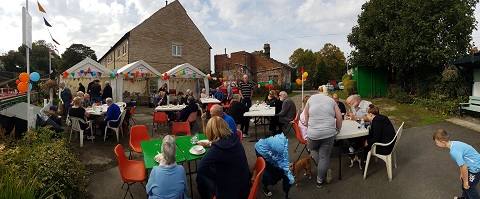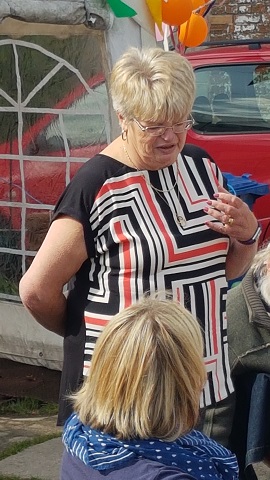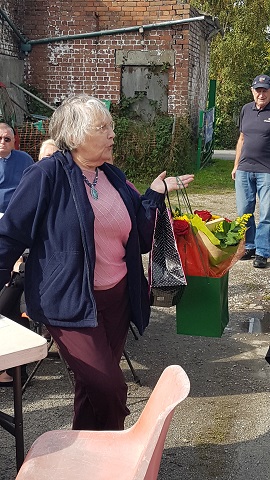 Mayors Annual Visit
On the 28th of September the Mayor of Stockport Cllr Linda Holt and her consort Ken Holt joined the Skipper, volunteers and trustees of Stockport Canal Boat Trust for a morning cruise on the Macclesfield Canal. The Trust was a Mayor's charity in the time of Gordon Bayley MBE and the boat has cruised every summer since 1981, taking disabled passengers on a slow cruise through the lovely Marple scenery.
Cllr Holt had the opportunity to talk to volunteers from the charity who not only man the boat but ensure that the shop is fully stocked and help at the various events the boat attends. She was also able to experience steering the boat and at the end of the trip received a certificate to demonstrate she had been able to do this. The New Horizons team were very pleased that the Mayor had been able to accept the invitation and had enjoyed her time on the Canal.