To Book New Horizons for your next trip please call:
Booking Numbers
Line One: 07413 565150
Line Two: 07413 550428
 Line Three: 07926 950 741
NEW HORIZONS Canal boat cruises for people with disabilities
The Trust offers day trips for people with disabilities around the canals of North West England aboard the specially designed, wheelchair friendly, canal narrow boat New Horizons.
A trip in a Canal Boat is the nearest a disabled person will come to a walk in the countryside."

H.R.H. Prince Charles.
Introducing New Horizons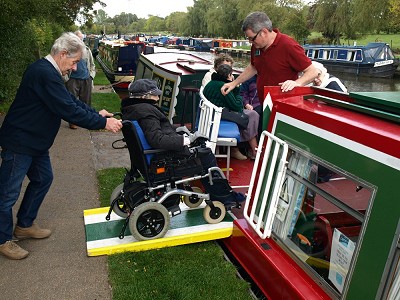 New Horizons is 70 feet long and 6 feet 10 inches wide to allow it to pass through the many narrow bridges and locks on the canal system. It is navigated by a skipper and volunteer crew. The boat has a boarding ramp, a lift and wheelchair access throughout its length. There's accommodation for a maximum of 12 passengers on half-day and whole-day trips . There is an open air viewing platform at the front of the boat and for cooler days in April and May the interior lounges are centrally heated. The fully fitted galley has a gas stove, a fridge and a large sink with running hot and cold water. Cutlery, crockery and cooking utensils are provided. There is a private fully accessible toilet area with flush toilet, large wash basin,  and plenty of hot water too!
Fully accessible with boarding ramp and lift.
Wheelchair access throughout the length of the boat.
Fully accessible toilet area.
Raised open air viewing deck at the front of the boat.
Centrally heated Lounge observation cabin.
Fully trained skipper and crew to navigate the boat.
In addition to all this, there's mains power supply (240v) and mobile phone for emergency calls.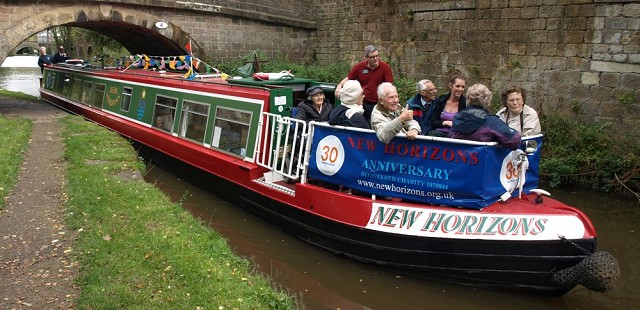 Day cruises on New Horizons are normally along either the Macclesfield Canal or the Peak Forest Canal. For more information take a look at 'Cruising Options' on the BOOKING INFORMATION page.
SAFETY
New Horizons is under the command of a full-time qualified skipper to ensure the boat's availability and the safety of passengers. The skipper and crew are all trained for inland waterways navigation. The boat is licensed by The Canal and River Trust and complies with boat safety requirements and is inspected at regular intervals by a marine surveyor.