Welcome to the 2021 Season. 
 FAMILY TRIPS AVAILABLE THROUGHOUT 2021 SEASON
Ian Gadd, our New Skipper, who has been in post since February 1st is enjoying welcoming passengers on board New Horizons. We are currently operating Morning, Afternoon, Evening and All Day trips. The boat is COVID-19 secure and all precautions will continue to be applied for the foreseeable future.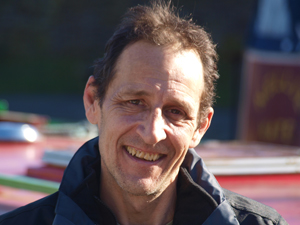 ---

Nomination Form: 40th Birthday Celebration Trips
Courtesy of the Co-op Local Causes Fund.
The trips will be for individuals / families resident in the SK6 postcode, who do not normally access us and are in need ongoing support. E.g. Those required to self-isolate, shield, or who are over 70, families where members of any age have a disability or SEND which means that normal social / educational interaction has not been possible in 2020 /21.
Bookings are still available for the rest of the season including the summer holidays. Trips are available for mornings (£60) 10am start , afternoons 1.00 pm start (£90) , all day (£140)and evenings 6.00 pm start (£60).
Those able to utilise this lovely facility has been widened to reflect the challenges faced by everybody in the last 14 months. New Horizons is COVID Secure. Only your group will be on board and the crew are in a separate area!
If you've not used the boat previously or just fancy a cruise - give us a try!

NEW HORIZONS BOOKINGS 2021
Dear New Horizons User / Supporter,
I am pleased to tell you that  bookings are now open for the 2021 season which will run until the end of October. Our Skipper – Ian Gadd, is looking forward to meeting you!
Initially we will be offering an outside experience for single households, bubbles, families who are allowed to socialise. As we move into the phases of the roadmap we will expand those who are able to enjoy the cruises on New Horizons in line with what is happening nationally.
Please feel free to book ahead.
The prices have been held at the 2020 level.
• £70 for the Morning
• £100 for the Afternoon
• £150 for the Full Day
• £70 for the evening (May to August)
For all trips booked in 2021 there will be a £10 discount per trip.
We no longer take deposits and would like payment in full to secure the bookings.
Payment can be made by:
• Credit / Debit Card
• BACS
• Cheque (Admin Fee of £2.50 will be made for payments by Cheque)
We are using a new accounting system which issues invoices via either email or to a mobile phone number. Details of how to pay will be clear on the invoice. We will not take payments at the time of booking.
If you are not able to use this system please make it clear to the person taking the booking so that we can make alternative arrangements.
Initially because of the fluidity of the situation we will not take payments until the beginning of the week prior to the trip.
 Bookings can be made using the online form (preferred method).
or
via the Booking Lines:
Line One - 07413 565 150, Line Two 07413 550 428.

Please be aware that both lines are manned by volunteers so leave a message if the call isn't answered we will respond.
Best Wishes and we look forward to seeing you this season.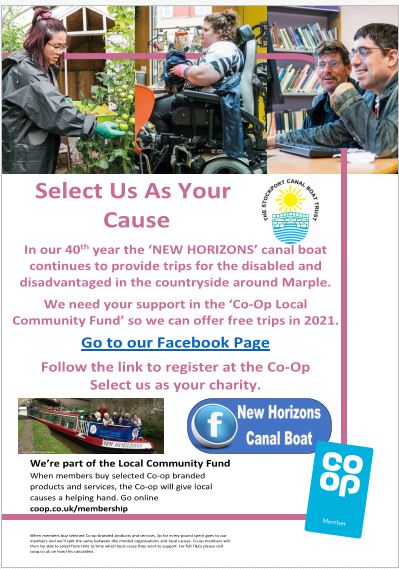 In honour of Peter, our Skippers retirement we asked him to share his thoughts on his role on the New Horizons. We wish you the happiest retirement Peter and all your fans and friends will miss you!
My Time as Skipper of the New Horizons by Peter Sharp, 
now viewable on the News Page.
 Macnair Trust support, see News page.
To Book New Horizons for your next trip please visit our booking pages and use the online form or call:
Booking Numbers
Line One: 07413 565150  Main Number (

Booking and Card Payments)

Line Two: 07413 550428 (

Bookings and Enquiries)
            Please do not use SMS for for bookings, these may not be monitored. Face Book enquiries welcome.
A trip in a Canal Boat is the nearest a disabled person will come to a walk in the countryside."

H.R.H. Prince Charles.
 Follow this link for a sample of what a trip on the Peak Forest Canal with  New Horizons is like.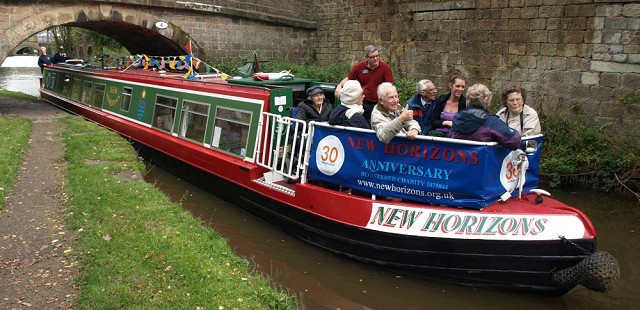 Day cruises on New Horizons are normally along either the Macclesfield Canal or the Peak Forest Canal. For more information take a look at 'Cruising Options' on the BOOKING INFORMATION page.
SAFETY
New Horizons is under the command of a full-time qualified skipper to ensure the boat's availability and the safety of passengers. The skipper and crew are all trained for inland waterways navigation. The boat is licensed by The Canal and River Trust and complies with boat safety requirements and is inspected at regular intervals by a marine surveyor.