About The Stockport Canal Boat Trust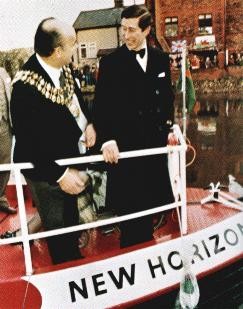 New Horizons, the Trust's Canal Boat, was launched by HRH The Prince of Wales in 1981. It is operated as a registered charity, Stockport Canal Boat Trust for Disabled People (Charity No: 1075844), established by the Mayor of Stockport, L Gordon Bayley MBE, in 1980. Gordon Bayley organised the fund raising, design and building of the Boat as he was a keen canal boater as well as having an interest in disabilities. Consequently the facilities are designed to assist those who need an accessible boat.
New Horizons has had only had 5 skippers in more than 40 years of operation. The Charity is managed by a Board of Trustees who are responsible for the effective and efficient running of the Charity. The day to day work of the Boat is carried out by a Skipper and a willing band of volunteers.
Over the lifetime of New Horizons it is estimated that over 80,000 passengers have been carried by the boat from its base at the junction of the Macclesfield and Peak Forest Canals in Marple.
The Trust receives no support from any statutory body so finances have to be arranged via donations, sponsorship, bequests and fund raising activities to cover operating costs. For further details please email the Chairman Sue Woodgate using the contact form below.
A trip in a Canal Boat is the nearest a disabled person will come to a walk in the countryside." H.R.H. Prince Charles.
Introducing New Horizons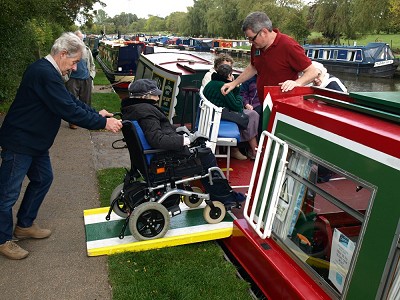 New Horizons is 70 feet long and 6 feet 10 inches wide to allow it to pass through the many narrow bridges and locks on the canal system. It is navigated by a skipper and volunteer crew. The boat has a boarding ramp, a lift and wheelchair access throughout its length. There's accommodation for a maximum of 12 passengers on half-day and whole-day trips . There is an open air viewing platform at the front of the boat and for cooler days in April and May the interior lounges are centrally heated. The fully fitted galley has a gas stove, a fridge and a large sink with running hot and cold water. Cutlery, crockery and cooking utensils are provided. There is a private fully accessible toilet area with flush toilet, large wash basin,  and plenty of hot water too!
Fully accessible with boarding ramp and lift.
Wheelchair access throughout the length of the boat.
Fully accessible toilet area.
Raised open air viewing deck at the front of the boat.
Centrally heated Lounge observation cabin.
Fully trained skipper and crew to navigate the boat.
In addition to all this, there's mains power supply (240v) and mobile phone for emergency calls.
Please use our Contact Us page to get in touch.
If your enquiry is about booking New Horizons please call the Booking Officer on 07413 565150